AI Art?
Software
27. January 2023 by Xanathon
---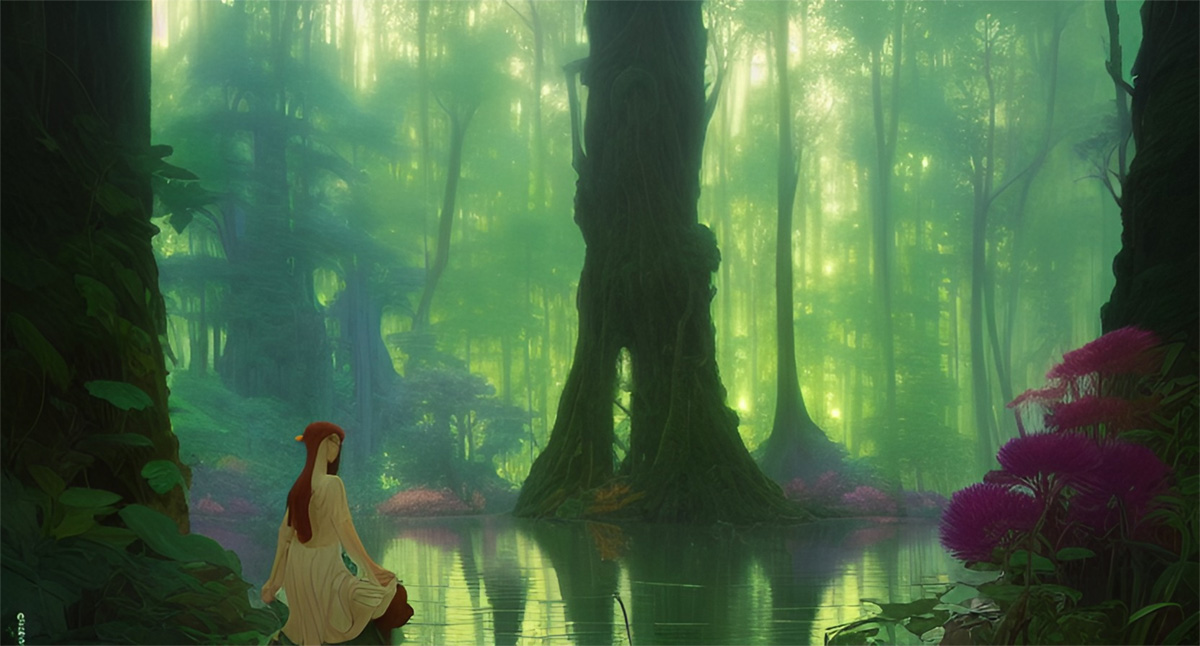 So recently there is a big hype about "AI Art".
First: There is no AI ("Artificial Intelligence") in it. The images are generated by Deep Learning algorithms. These work by feeding a very large number of tagged images into the algorithm. Through clever coding and enormous computing power (the kind of computing power modern gaming video cards are able to provide) the algorithms then create new images out of the old ones, that more or less fit to the description ("prompt") the user gives.
Are the resulting images "art"? Most probably yes. A lot of them are quite stunning (and some art scientists and art historians have the opinion that this is indeed art. Others have other ideas, as it should be).
But:
Is that "creation of art", as some users claim and proudly present the images that come out of the algorithms as their "creations"?
Certainly not. The creation process for art needs to come from an artist, not an algorithm. Also there is no creation process in the "prompt". It is just a prompt. You can compare that to telling an artist what to paint and he or she then paints it for you. The creation process is by the artist, not the one uttering what he or she wants to get.
Deep Learning algorithms are an amazing new tool in the artists toolbox. You can use them in a lot of ways: To quickly create ideas. To generate art assets to be used in real creative works, creating derivatives of the DL images. To quickly vary your created images. To create procedural textures for 3D models. For lookdev. For inspiration. For collages. As parts of own creations. So you CAN take images that came out of a DL algorithm to create art, but they are not art by themselves, since there was no creative or artistic process involved, only a lot of computing power and algorithms created by coders (and if we look deeper, the creative process of the artists that created the original images, but not yours).
DL images are a new and fascinating tool for creators and artists, but you are not an artist by simply telling a DL algorithm a phrase and then waiting what comes out of it.
This will be a topic for lawyers and courts in the coming years. Especially since a lot of images by artists were fed into the DL algorithms without asking them (that leads to images created in their art style, the inclusion of the images into the database may be a copyright infringement, judges will have to decide that). Style cannot be coprighted, but this is a completely new use case. Especially since it's not the images themselves that are included in the model, but only a kind of hashed values of those images. So one could argue the images are not even used in their original form. Aside from that: The genie is out of the bottle. Some of the algorithms are free and everyone with a little knowledge or the ability and will to invest some time to find out how it is done will be able to train a model and feed images into it. Even if courts rule that images may not be included into the models without the creator's consent: everyone can train a model and create images with it – and for the resulting images again the rule applies: you cannot copyright style. Please not that I do not judge this, I just observe.
Deep learning created images are not art in themselves (but they may look quite artistic and beautiful, because of the source material). But they are also not "bad" or "the end of creators". They are a new tool. Not the paintbrush creates the art, the painter does.
And the tsunami of DL-generated images that is posted everywhere in the last months and weeks shows that this gets old really fast. I am already tired of it after an initial phase of fascination. But my opinion still is the same: This is not the end of art or artists – and some artists that get quite emotional about this should take a breath and calm themselves. This is not as evil as you may think. Wait what the judges decide instead of running around waving your arms. Yes, "stock artists" may have a problem in the future, but one could argue if that is art anyway.
(Image out of stable diffusion. Stunning, but no postwork or derivative work done on it).