Google releases tool to easily insert 3D models into webpages
News / Software
26. January 2023 by Xanathon
---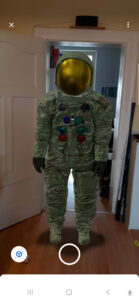 Google released a Javascript library called <model-viewer> that allows you to easily include 3d models into webpages. It's as simple as adding an include to the library to  the head of the page and then you can use it like any html element. You can even add hdri environments to light you model.
This works with glTF/GLB models, and there are even AR capabilities, If you open this page not in a desktop browser but on your phone you can put the suit in your environment (see phone screenshot). Only Webkit browsers are supported, Firefox does not work.
You can find all details on the project page.
It is actually dead easy, I included the model below using the example code in under a minute (the model ist 8 MB it may take some time to load for you depending on your online speed). Of course as with all Google projects you have to be careful considering that they may end it any day, like they did with other projects. So you maybe want to download the library instead of linking to the script.
The example code looks like this:
<!-- Import the component -->




<

script 

type

=

"

module

"

 

src

=

"

https://unpkg.com/@google/model-viewer/dist/model-viewer.min.js

"

>

</

script

>





<!-- Use it like any other HTML element -->




<

model-viewer 

alt

=

"

Neil Armstrong's Spacesuit from the Smithsonian Digitization Programs Office and National Air and Space Museum

"

 

src

=

"

shared-assets/models/NeilArmstrong.glb

"

 

ar

 

environment-image

=

"

shared-assets/environments/moon_1k.hdr

"

 

poster

=

"

shared-assets/models/NeilArmstrong.webp

"

 

shadow-intensity

=

"

1

"

 

camera-controls

 

touch-action

=

"

pan-y

"

>

</

model-viewer

>